Captains
Ensuring your comfort and safety on the water is paramount, which is why we emphasize having the boat be excellently staffed. Our captains and crew are experienced in the nautical world, and have been around boats all their lives. The captains possess a wealth of experience around the whales. Some even follow the same ones we have here feeding at the Jersey Shore, all year round. Namely in our winter months, traveling to watch the whales in Virginia or further south, or the Caribbean to witness the whales breed and give birth.
The captains and naturalists are very knowledgeable about the whales' migratory patterns, breeding and feeding behaviors, and methods of communication. Due to their amount of experience both experiencing and studying whale behavior, the respect and understanding on correct conduct around the mammals is second to none. All captains are in radio contact too, which means that when a whale is sighted, the information is shared and no one misses out.
10 Tips for Enjoying Your Whale Watch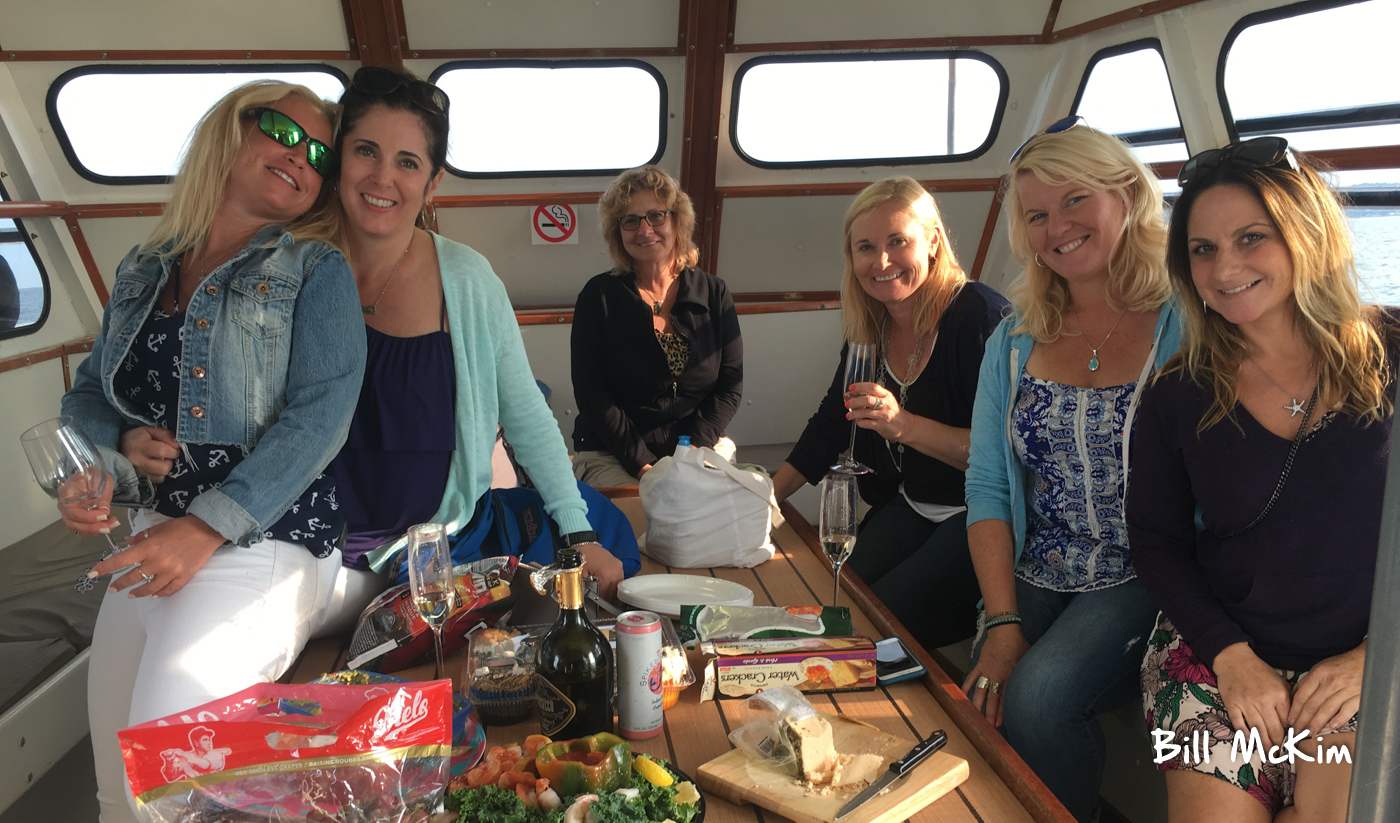 10 Tips for Enjoying Your Whale Watch
Ages – This trip is great for 4 years old and up!
1. Be Rested Get a good night's sleep. Being rested will keep you alert and guards against the effects of sun and sea. Remember: your whale watch is 3 ½ -4 hours long and you can't go home early.
2. Stay Hydrated Drink plenty of water. This is especially important on hot summer days offshore. Being hydrated minimizes headaches, nausea, and can help prevent motion discomfort. Remember: sodas, juices and beer are not water. Drink water to stay hydrated.
3. Dress Warmly It will always be a minimum of 10 degrees cooler on the ocean.
4. Wear Appropriate Shoes Comfortable sneakers or walkers are best. High heels compromise balance on a boat; resist the urge. Flip-flops and sandals make your feet susceptible to stubbed toes.
5. Bring Sunglasses The most important tool for viewing whales is Polarized sunglasses. Polarized sunglasses cut surface reflection, even on cloudy days, and enable you to see far more detail. You can buy them anywhere ($20 and up), but remember to buy Polarized.
6. Bring Sunscreen Direct sun and reflection from the water make sunscreen essential. Even on cloudy days it is possible to get sunburned. Look for waterproof, sweat-proof formulas with a SPF rating of 30 or higher. Apply liberally and frequently.
7. Bring Your Camera Any camera is better than no camera! If you can choose, bring a camera with a zoom feature to get close-ups. If you are a real pro, pack a polarizing filter, lens cloth, and both wide-angle and zoom lenses. Charge your batteries. Protect lens surface from whale breath. It has oils that are difficult to remove.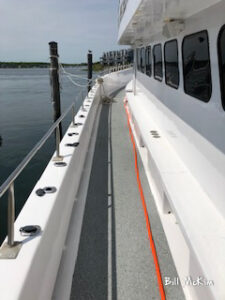 8. Personal Items Bring playing cards, games, books or electronic items, whatever you wish. You may bring snacks and drinks, BYOB is allowed ,Small coolers please. Remember your prescription medications. Please, no pets. Real service dogs are welcome
9. Your Comfort is Key Some people are susceptible to motion discomfort, we do not sail on rough days! Over-the-counter medications can help only if taken one hour before the trip (Bonine is a non-drowsy formula). Accupressure bracelets (Sea-bands) and ginger are alternatives to medications. There is less motion on the main deck of the boat than on the upper deck. Stay outside if you feel uncomfortable.
10. Use our resources Our naturalists are experts and love sharing their knowledge and enthusiasm with our guests. Interns from the Gotham Whale Research gather and record whale research on every trip and can tell you about the whales you saw that day. They love to talk Whales!