Reviews of Jersey shore whale watch

Have some fun relax and enjoy being on the ocean.

]
Everything, Best Whale watch trip ever! Been on several and never saw a whale! Well we saw 1 it was the best experience that I ever had!!! The crew was excellent, everything was spotless! We saw whales, a sea turtle! They told us where to look! I cant say enough about Bill & his crew! You will not be disappointed! Just due it! 🐳🐢
July 2020 Beautiful, Suspenseful, Educational, Awesome Adventure!
By far, the best adventure of your summer fun! You won't be disappointed… In my third year, multiple trips, with the most amazing crew. We never leave early. Captain will wait for the last second to catch the automatic draw bridge, waiting for those who are running a bit behind. The host will try to call to see if your close by or had to cancel without notice. The Captain & First Mate take pride on cleanliness, outgoing on being helpful, friendly & welcoming! The Royal Miss Belmar is third generation in this family! I frequently go on my own, with my granddaughter when she's with me and they made special accommodations for my very frail brother on the 4th of July trip, 2020! Bill McKim is The Jersey Shore Whale Watch host & photographer. The staff includes a marine specialist representing Gothem Whales non profit organization. I can't think of a better way to spend an afternoon, then going on a Jersey Shore Whale Watch adventure!
What a great trip!!! The boat was immaculate, inside and out as were the restrooms. And the restrooms are real restrooms. Ample room for everyone to freely move around the boat. Able to see whales and dolphins from every angle. Friendly and knowledgeable crew! BYOB
WHAT BOAT DO YOU HAVE & HOW MANY DO YOU TAKE OUT?
Our charter boat is a 115 foot 2 viewing levels built to USCG & International Marine Standards designed for maximum stability and comfort, surveyed for 130 passengers + five crew in open waters. During the whale season we like to limit our numbers to a maximum of 1115 to give all passengers space to move around and take advantage of the great viewing positions.
Our vessel has excellent 360º viewing from upper and lower decks, 2 full size bathrooms and a kitchen. This boat was designed for your comfort.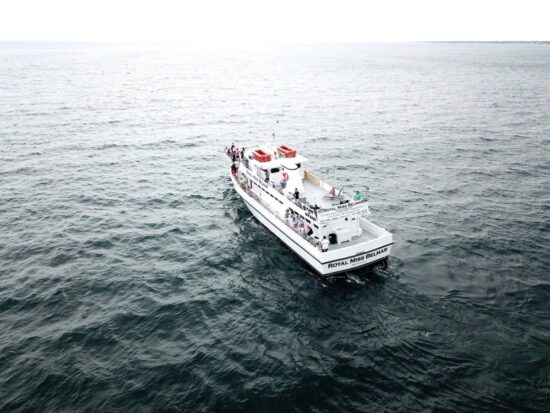 Phone
732.451.6003

email
FAQ
Q. WHEN IS THE BEST TIME TO GO OUT WHALE WATCHING?
A. Our Belmar location allows ust to enjoy the longest Whale Watching season in NY/NJ from April to early November each year. No two whale watching journeys are the same, with an unforgettable experience occurring during the whole whale watching season.
At the beginning of the season you are likely to watch these amazing creatures as they migrate north to warmer waters , whereas later in the season you are likely to catch them as they return south.
WHALE GUARANTEE
As our tours are conducted in the ocean we do not control these beautiful creatures; hence no two cruises are the same. We believe this is a part of the attraction of experiencing the whales on their migration path.
Due to the increase of Humpback whale population during the past few years, Our Guarantee is that if Whales are not sighted on the day of the cruise we will provide vouchers for the passengers aboard to return FREE of charge on another day. We can say that in 2018 this only happened once and as of Sept 2019 this only happened once we did not see a whale!
Q. HOW CLOSE DO WE GET TO THE WHALES?
A. As responsible whale watchers, we don't approach closer than 100 feet of the whales. Though that doesn't mean the whales can't come to us and they do. Whales are curious mammals – at times they will dive for a few minutes and come up where you least expect them, sometimes close to the boat!
Q. Can I bring my camera or video equipment, will it get wet? Yes you can bring your gear, it wont get wet unless you do something stupid..lol
Q. How big is the boat? The boat is HUGE, it's an 115 foot cruiser.
Q. Bill are we really going to see whales? The answer is always unknown, but I can tell you that in the trips we have done in 2018 we have seen at least one whale up close each time. One trip we even had 3 whales in our view!
Q. Where does the boat leave from? We depart from Belmar Marina a short 5 min ride and we are cruising the Atlantic Ocean.
Q. Will you be running these tours all summer and fall? That I don't know, but we are running them now and we will run them again in the fall so make sure to book now!
Q. Can We bring food, beer, wine, or champagne? Yes, you can.
Q. What should we wear? Bring a light windbreaker in case you feel cool on the way back, and don't forget sunglasses and sunscreen!
Q. Is there a full bathroom room on board the boat? Yes, we have separate men's and ladies' rooms.
Q. I have a large group and want you to take us all out alone on our own private whale watching tour, will you do this? A. Yes, I would love to. Call me on 732.451.6003 We can charter any size boat your group needs!
Q. How long is the trip? The trip is just over 3 hours.
Q. Where does the boat go? We stay along the coast for most of the ride, so you can see all the beautiful homes along the coastline of New Jersey. On clear days you can see the skyline of New York City!
DOES A SMALLER BOAT MEAN WE ARE CLOSER TO WHALES, AND WILL WE SEE MORE?
No. A smaller boat means you are closer to the water, not closer to the whales. The higher up you are the better vantage points to see and capture the whales.
WHAT HAPPENS IF IT IS BAD WEATHER?
If it is overcast or lightly raining we still venture out to see the whales; we tend to find the whales still active. We have plenty of under covered areas (including indoors) so you can stay warm without missing out on seeing the whales if you wish.
We base our decision on the tides and the winds. If it is too rough and unpleasant we will contact you the day before to reschedule your trip.
WILL I GET SEA SICK, WILL IT BE ROUGH?
Motion sickness affects us all in different ways causing many people to get sea sick. If you know or are unsure how the boats journey will affect you, sea sickness tables can be purchased from a pharmacist or alternatively on board our vessel on the day. As our tours venture out to the ocean it is always better to come prepared. If you are still concerned, we recommend you speak with a pharmacist and eat lightly before embarking.
WHAT SHOULD I WEAR/ BRING?
We highly recommend enclosed flat comfortable shoes as well as a jacket or jumper as it can tend to get a little chilly in the sea breeze.
And remember to bring your camera to take pictures of the beautiful gentle giants of the sea. You can post your photos on our Facebook, Jersey shore whale watch.
CAN I PURCHASE A GIFT VOUCHER?
Yes; our gift vouchers are ideal to give to someone for their Birthday, Engagement and Wedding, or to reward a staff member for their efforts. The gift voucher is valid for the whole season and can be used on any day. To utilize the voucher the recipient person calls the office direct, quotes the unique voucher number to book. Then brings the voucher with them on the day of their cruise. phone 732.451.6003
IF WE ARE BOOKED AS A GROUP, DO WE HAVE TO COME BACK AS A GROUP?
No, should you wish to join us on another whale watching trip you are welcome to come back on separate days if you like.
Learn How to Spot a Whale…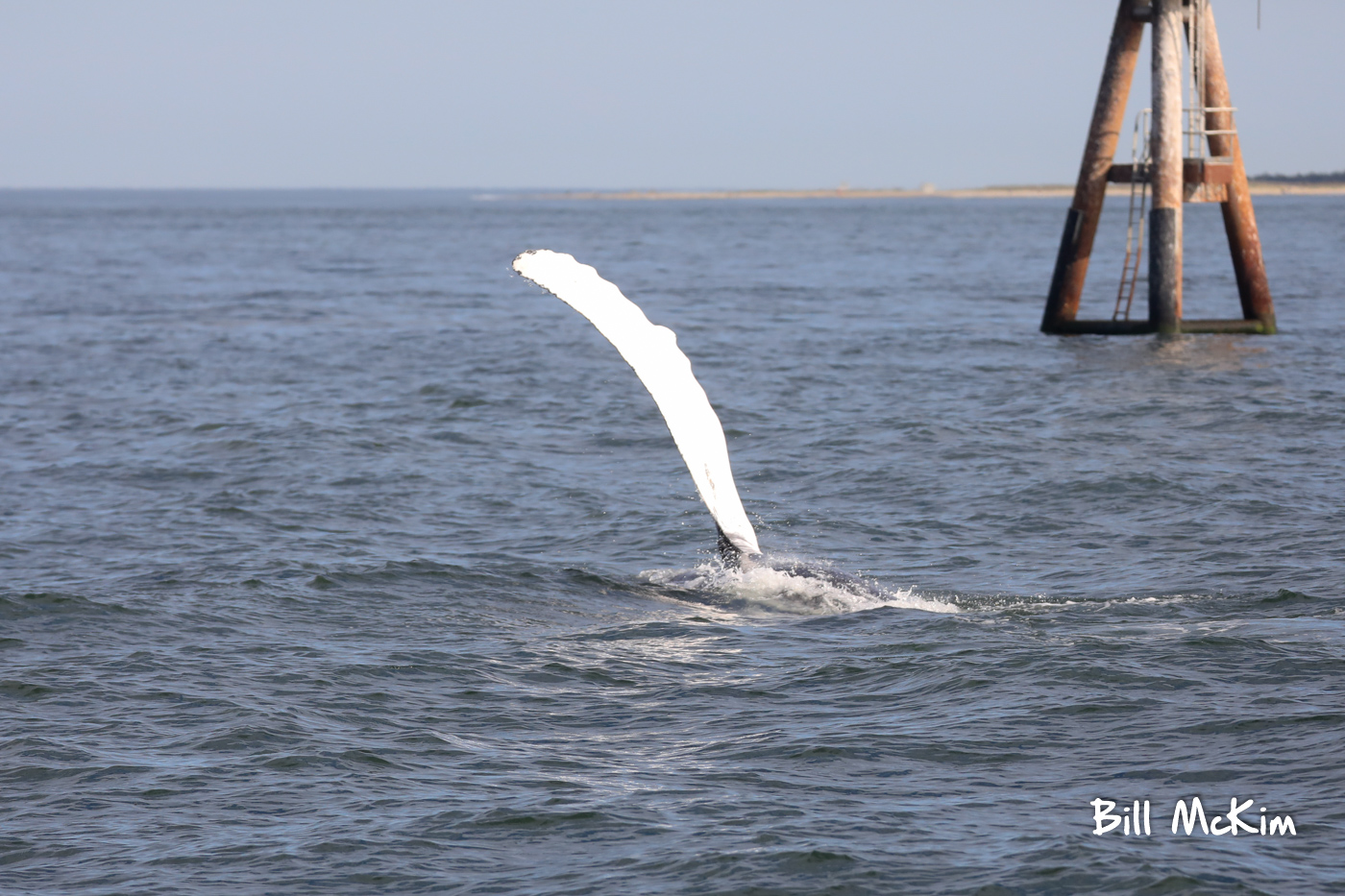 Find a comfortable place at the railing and carefully scan back and forth over the water to the horizon. Look for things that don't belong. Watch for blows, the whales' tall exhalations. Look for backs, dorsal fins, or tails at the surface. Splashing in the distance often indicates active whales. Also, watch for groups of seabirds who may be feeding above whales. Once whales are located, the boat stops to begin the whale watch. It is important to note that the boat voluntarily operates within Whale Sense whale watching guidelines to keep the whales safe!
They come to coast of New Jersey during the warmer months to feed on bunker Menhaden fish. The whale behaviors cannot be predicted, but are often spectacular. The numbers and species of whales always vary from trip to trip.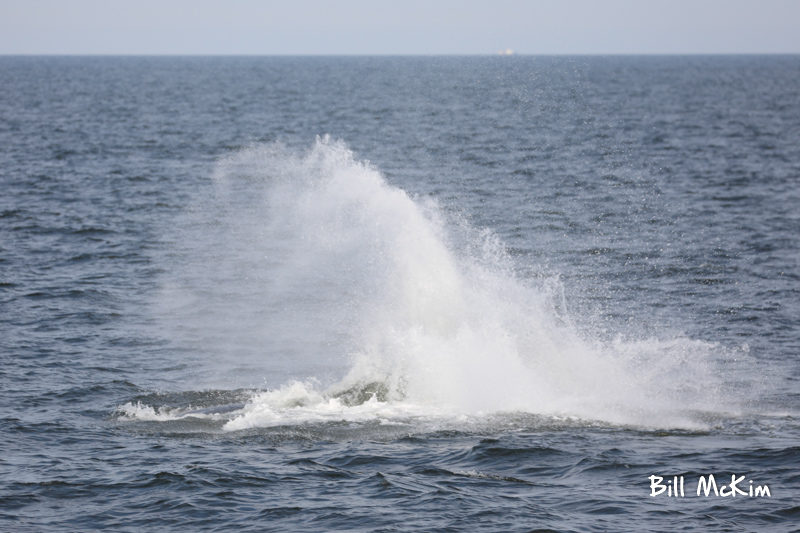 We will be doing trips weeks days and weekends til the end of October, let us know what works for you www.billmckim.com
Departure
To ensure our cruises operate according to schedule and you are able to enjoy maximum viewing time, passengers are required to be at the departure point 30 minutes prior to the scheduled cruise time. In consideration for all passengers on board, the Jersey Shore Whale Watch Vessel will not wait past the scheduled cruise time for late passengers.
Whale Watching Cruise Information
When attending our Whale Watching cruises, we recommend passengers move to our open decks for the best views, and advise that you should dress appropriately for this experience:
Pack a warm sweatshirt or a windproof / waterproof jacket. Conditions at sea can be windier and cooler than on the mainland.
Appropriate footwear is also important. We recommend you wear fully covered footwear with suitable grip, such as sneakers or deck shoes.
Cap or hats are also recommended on sunny days. The Jersey Shore Whale Watch Crew can provide you with sunscreen if you need extra protection. Remember, always be sun smart!
Jersey Shore Whale Watch is BYOB you can purchase soft drinks and snacks throughout the duration of the cruise. You are more than welcome to bring along some light snacks for your children and family, if you would prefer.
Safety
The Jersey Shore Whale Watch Crew is focused on caring for your well-being and your safety. Our Vessel was designed for your maximum comfort, and is manned by qualified and competent crew appropriately updated with safety training, hands on training drills and emergency procedures.
Life jackets are available on board and are distributed at the discretion of the Skipper. Please feel free to ask our friendly staff if you have any questions.
Jersey Shore Whale Watch is committed to providing healthy and safe conditions, and to maintaining a safe and pollution-free operating practice that complies with national and international regulations and relevant standards, codes and guidelines.
Jersey Shore Whale Watch is compliant with all safety obligations as outlined by USCG
TERMS & CONDITIONS
GENERAL TERMS & CONDITIONS:
All ticket sales are final. No further discounts will be applied once a booking has been made.
No refunds will be given in the instance that a reduced price is mentioned / found after the booking has been processed.
All ticket sales must be confirmed with Jersey Shore Whale Watch by phone or email. Bookings are essential. Walk-ons are permitted.
A Booking Confirmation or Voucher must be presented before boarding will be permitted.
Seniors / Students must present an appropriate ID card to obtain the advertised rate.
All cruises are subject to minimum passenger numbers.
All tickets purchased are to be redeemed during the current year and the same Whale Watching season. Extensions to the following year or season will not be permitted.
Neither Jersey Shore Whale Watch of Gold Coast nor its employees shall be liable for any death or personal injury to any passengers or any loss or damage to property, unless such death, injury, loss or damage has been acclaimed as a result of negligence of the company or its employees.
LATE ARRIVAL POLICY:
All passengers MUST be at the designated departure point 30 minutes prior to the scheduled cruise time.
Jersey Shore Whale Watch is NOT liable for passengers being late.
In the event you have missed your planned cruise time, we will reschedule your cruise to an alternate day (subject to availability).
In the event you are unable to reschedule your missed cruise, you will NOT be entitled to a refund.
INCLEMENT WEATHER POLICY:
In the interest of passenger comfort and safety, cruises are subject to suitable weather conditions.
Jersey Shore Whale Watch reserves the right to cancel any cruise at any time and will notify all passengers by email and SMS. It is the passenger's responsibility to ensure that their contact details are accurate.
In the event your cruise is cancelled due to inclement weather, we will reschedule your cruise to an alternate day (subject to availability).
In the event you are unable to reschedule your cruise that has been cancelled due to inclement weather, you will be entitled to a full refund.
You must request your refund within 30 days of your original cruise date, or you will forfeit your right to a refund.
RESCHEDULING POLICY:
In the event you are unable to attend your planned cruise you must notify Jersey Shore Whale Watch a minimum of 24 hours prior to your scheduled cruise time.
If you do not provide the required 24 hours notice when rescheduling your cruise, an administrative fee will be charged.
You are permitted to reschedule the same booking twice only. If a third amendment to your booking is required, an administrative fee will be charged.
CANCELLATION POLICY:
No refunds will be provided for change of mind or unforeseen circumstances.
In the event you are unable to attend your scheduled cruise for any reason, we will help you to reschedule your cruise to an alternate day (subject to availability).
In the event you are unable to reschedule your cruise to the current Whale Watching season, you are permitted to transfer your cruise into the name of a family member or friend.
All decisions regarding cancelled cruises will be made by the Operations Manager and are considered final.
The only instance a refund will be provided is if Jersey Shore Whale Watch of Gold Coast has made the decision to cancel your cruise.
WHALE SIGHTING GUARANTEE:
In the event of no whales being sighted on the day of your cruise, a complementary return cruise will be offered to all passengers.
In the event you are unable to reschedule your complementary return cruise, you are permitted to transfer your complementary cruise into the name of a family member or friend.
No refunds will be provided in the event of no whale sightings.
SEASICKNESS ADVICE:
To ensure an enjoyable day, we recommend that all passengers take precautions to prevent seasickness.
Seasickness preventatives are available for purchase on board.
Seasickness pills are most effective if taken at least half an hour prior to your cruise.