I promise we will do it again join newsletter to make sure you are first to know, this next trip will sellout in a day!
here is the trip review from October 19th https://jerseyshorewhalewatchingtour.com/2020/10/trip-to-the-promise-land-of-whales/
It's finally here! Our OFFSHORE WRECK WHALE WATCHING ADVENTURE! This will be an EXCLUSIVE 12-hour trip 50-60 miles offshore to search for migrating humpback, finback, and minke whales! We will also be looking for bottlenose dolphins, common dolphins, pilot whales, pelagic birds, and who knows what else! We are limiting this trip to only 30 people so get your tickets now before it sells out!
We are SO excited for our 12-hour offshore trip on October 19th!
If you are joining us, expect to see a beautiful sunrise as we make our way east towards the Triple Wrecks. You will have plenty of room to relax as our three experienced observers search the waters to find you some of the largest whales in the North Atlantic. Large schools of dolphins, jumping tuna, diving birds, and sea turtles are all commonly seen on these trips. Here are some photos of the marine animals we hope to find!
about the boat
The Queen Mary is an 85' Gulf Craft saltwater fishing boat fully restored in 2017. It features a huge cabin with ample covered seating and tables, we will socially distance our time inside, as well as plenty of room on 2 decks. She is licensed and approved for up to 95 passengers, so space certainly isn't an issue! The Queen Mary has a large top deck to view the action or just relax and enjoy the scenery.
Though we emphasize the whales, our trips focus on all sea life. We take time for birds, dolphins, sea turtles, fish, and anything else that we find of interest at sea. On each trip there are enough leaders for the group size. Leaders are chosen not only for their whale/ pelagic experience, but also for their abilities to help you with spotting and identifying the life forms that are found. Remember, you are one of many, if you have a question for a leader, don't be shy, ask them, and stick close to them for identification assistance.
Thank you, and I hope to see you aboard! I can't wait -Bill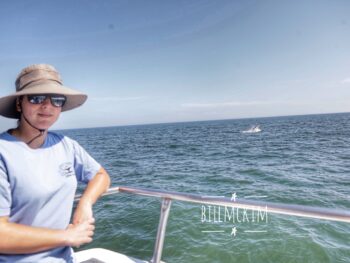 Danielle Marie Brown Will be leading our tour
yes on bringing face masks in case we need to be inside the boat cabin at some point, rain or shine, but it will be the captain's call on safe water conditions.
October 19, 2020
6am-6pm
Boarding at 5:30am sharp!
Queen Mary
Point Pleasant, NJ
cost is $200 per person
**Tickets are available by pre-paid reservation only. All tickets are non-refundable. However, if the trip is cancelled due to weather we will reschedule for another day, you would have the option for a 75% refund if you can't make rescheduled date.
This is a unique trip, this is not a trip for someone who does have good sea legs, or is a beginner boater.
12 Hour Off Shore Whale Wat… https://billmckim.com/products/12-hour-off-shore-whale-watching-adventure