Wednesday was a great trip. We started with a Minke whale these whales are the smallest of the big whales and are very fast and difficult to photograph Here are a couple images of the Minke whale we saw off Asbury Park Wednesday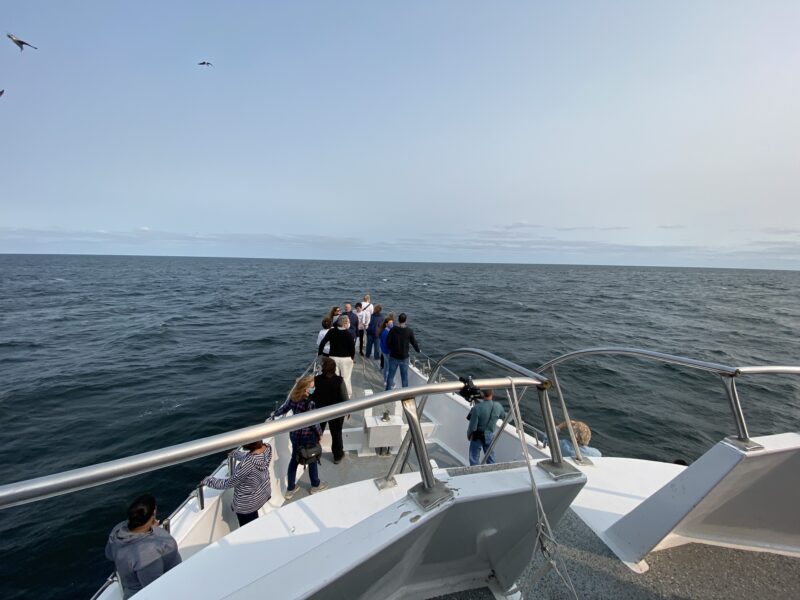 Below is a Minke whale off the coast of New Jersey
The minke whales are the second smallest baleen whale; only the pygmy right whale is smaller. Upon reaching sexual maturity (6–8 years of age), males measure an average of 6.9 m (23 ft) and females 8 m (26 ft) in length, respectively. Reported maximum lengths vary from 9.1 to 10.7 m (30 to 35 ft) for females and 8.8 to 9.8 m (29 to 32 ft) for males. Both sexes typically weigh 4–5 t (3.9–4.9 long tons; 4.4–5.5 short tons) at sexual maturity, and the maximum weight may be as much as 10 t (9.8 long tons; 11 short tons).
The minke whale is a black/gray/purple color.
Common minke whales (Northern Hemisphere variety) are distinguished from other whales by a white band on each flipper. The body is usually black or dark-gray above and white underneath. Minke whales in New Jersey  have between 240 and 360 baleen plates on each side of their mouths. Most of the length of the back, including dorsal fin and blowholes, appears at once when the whale surfaces to breathe.
Minke whales typically live for 30–50 years; in some cases they may live for up to 60 years.